As announced by the Federal Retirement Thrift Investment Board (FRTIB) in November 2020, an increased budget at TSP will mean higher expenses for accountholders.
Complimentary TSP Webinar:
For the Fiscal Year of 2020, the Thrift Savings Plan (TSP) administrators requested a budget of $385.6 million, and then $498.4 million budget for the subsequent year. The reason behind the 30% budgetary increase was said to be for improvements to the retirement plan's I.T. infrastructure, and to modernize recordkeeping. The technological advancements involve enhancing cybersecurity and updating their electronic-based financial systems. Some of these higher costs will mean higher expense ratios for the TSP's 5 main funds: G, F, C, S, and I, allocations of which compose the plan's lifecycle or "L" funds.
The FRTIB announced in November 2020 that the average annual expense ratio across the TSP funds will be 7.6 basis points (or, 0.076% of the invested amount that the accountholder pays TSP for managing the investments.) In comparison to similar funds outside the TSP, the available investments within the Thrift Savings Plan have expenses that are considerably low, but this is still a 30% uptick from the annual expense ratio from the previous year, which was 5.8 basis points.
The increments at which the expenses rise appear to be gradual so far, but can be identified. The average total expense ratio was 4.3 basis points in December 2020, and grew 18.6% to 5.1 basis points the following month. The most current expense ratios on TSP.gov show the S fund has the highest at 0.068%, the C fund is at 0.051%, and the G fund is now 0.049%. Budgets for TSP are expected to decrease as the infrastructural improvements are completed, but there is no budget in their future plans that is less than $400 million annually. This indicates that the days experienced by TSP investors when they enjoyed expenses in the 3 to 4 basis point range might be in the past. The 0.03 – 0.04% range is where the TSP expense ratios hovered through most of 2010 to 2019. Also important to consider, if the improvements take longer than expected, the expenses could get even higher beyond 2022.
-
Until Next Time,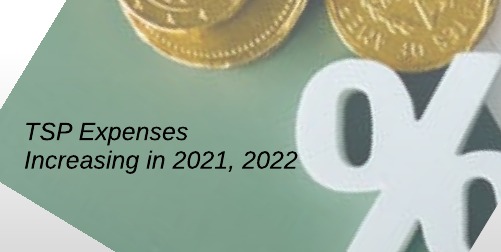 **Written by Benjamin Derge, Financial Planner. The information has been obtained from sources considered reliable but we do not guarantee that the foregoing material is accurate or complete. Any opinions are those of Benjamin Derge and not necessarily those of RJFS or Raymond James. Links are being provided for information purposes only. Expressions of opinion are as of this date and are subject to change without notice. Raymond James is not affiliated with and does not endorse, authorize, or sponsor any of the listed websites or their respective sponsors.
Expense Ratios of TSP Funds are Increasing