Edward A. Zurndorfer
The month of September has been designated by the Life Insurance and Market Research Association (LIMRA) as "Life Insurance Awareness Month." Since many federal employees have a need for life insurance, the FEDZONE will be presenting a series of columns discussing issues associated with purchasing life insurance including the different types of life insurance policies, the difference between term life insurance and permanent (cash value) life insurance, comparing individual life insurance versus group life insurance, how to buy life insurance, and tax issues associated with life insurance.
Previous FEDZONE columns in August 2019 discussed the Federal Employees Group Life Insurance (FEGLI) program. FEGLI is a group life insurance program sponsored by the federal government available to full-time and part-time permanent employees.
In general, term life insurance (as the name suggests) provides life insurance coverage for an individual for a limited period of time or term. Term life insurance can therefore be compared to an automobile insurance policy. While the auto insurance policy is in force, the insured enjoys protection against monetary loss resulting from an automobile accident. If no accident happens, no benefits are paid under the policy terms. At the end of the period covered by the automobile insurance policy, there is no refund of premium paid. Term life insurance works in much the same way.
Term life insurance, therefore, provides only pure insurance protection and does not have the cash value feature-type found in cash value (permanent) life insurance policies. Term life insurance may be purchased on an individual basis or as part of a group. An example of a group term insurance policy the FEGLI program which has been available to full-time and part-time permanent federal employees since 1954.
An advantage of purchasing a group term insurance policy such as FEGLI is minimal – if any – underwriting requirements. This means that a member of the group – for example, a federal employee – when he or she is just hired is eligible to join FEGLI within 60 days and not be subject to medical underwriting. Moreover, an employee can be young, middle-aged, or old; the employee can be in good health or is not in good health, and the employee can be a smoker or non-smoker; in each of these situations, the employee when first hired is guaranteed life insurance FEGLI coverage.
A disadvantage of being enrolled in a group life insurance plan is when an individual leaves the group, the individual loses life insurance coverage under that plan. A federal employee who leaves federal service therefore loses his or her FEGLI coverage.
An advantage of purchasing an individual term life insurance policy is that the policy stays with the individual until the plan is no longer in force. For example, an individual purchased a 20-year term life insurance policy and the 20-year period has passed. A disadvantage of purchasing an individual term life insurance policy is that the individual has to be approved for coverage through medical underwriting which usually requires a medical exam. The individual may not qualify for the insurance or may have to pay more in insurance premiums (as a result of being "rated" by the insurance company underwriting staff) compared to another individual who applies for the same type of insurance but is in better health. Another disadvantage of buying term life insurance is that there are variations in term life insurance, which is now discussed.
Term Life Insurance Policy Variations
Term life insurance is appropriate for individuals who need life insurance for a short and temporary period of time. For example, younger families may need life insurance protection for perhaps 15 to 30 years. Premiums are generally lower if an individual buys term life insurance at a younger age. However, with some term life insurance policies premiums increase as the term life insurance policyholder gets older.
The face amount of the life insurance policy is only paid to a beneficiary if the death of the insured (generally the insurance policyholder) dies during the insurance period. Most term life insurance policies have no cash value and have no residual rights if the policy is canceled.
The following are some variations of term life insurance policies:
Annual renewable term life insurance. Term life insurance is characterized by a level death benefit but a premium which increases at each annual policy renewal (perhaps every three to five years) and no cash value. Although the policyholder need not furnish evidences of insurability as the policy is renewed every few years, premiums are likely to increase as the policyholder gets older.
· Level-term life insurance. The annual premiums are fixed for a specified period of time – typically 10,15, 20,25 or 30 years. Premiums do not increase as policyholder gets older and even if the policyholder's health deteriorates. The death benefit remains constant and there is no accumulated cash value.
Decreasing term life insurance. A term life insurance policy which has a level premium, a decreasing death benefit over the term of the policy, and no accumulation of cash values.
Return of premium term life insurance. A term life insurance policy in which the premiums paid by the policyholder are returned to the policyholder if the policyholder outlives the policy period. For example, an individual who purchased a 20-level term return of premium life insurance policy would receive a refund of 20-years' worth of premiums if he or she outlives the 20-year of the policy. It should be noted, however, that the insurance will charge a higher premium compared to the premium for a regular 20-level term policy. Also, the policyholder would only get back the 20 years' worth of premium's that would have paid had it been a regular 20-year level term policy.
Term Life Insurance – Optional Policy Provisions
A number of optional policy provisions – commonly referred to as riders – can be added as a basic term life policy. With some riders, the additional cost is added to the premium. These optional provisions include:
Renewable. This provision allows the policy to be renewed at the end of the term period without the insured having to show that he or she is still insurable. In other words, no medical underwriting.
Convertible. This provision provides the insured the option to convert a term policy to a permanent policy without having to furnish evidence of insurability.
Accidental death. Pays the beneficiaries double (in some situations triple) the face amount of the policy if the insured dies in an accident.
Waiver of premium. Allows an insured to stop paying premiums if he or she becomes disabled and is unable to work.
Accelerated death benefit. An accelerated death benefit provision allows for payment if part of a policy is death benefit while an insured is still alive. Such benefits are typically payable when the insured develops a medical condition expected to lead to death within a short period of time (usually less than one year).
Note with the exception of waiver of premium (not offered in the FEGLI program), FEGLI offers these optional term life insurance policy previsions at no extra premium cost to the federal employee.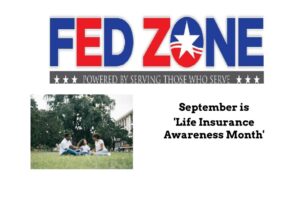 Edward A. Zurndorfer is a Certified Financial Planner, Chartered Life Underwriter, Chartered Financial Consultant, Chartered Federal Employee Benefits Consultant, Certified Employees Benefits Specialist and IRS Enrolled Agent in Silver Spring, MD. Tax planning, Federal employee benefits, retirement and insurance consulting services offered through EZ Accounting and Financial Services, and EZ Federal Benefits Seminars, located at 833 Bromley Street – Suite A, Silver Spring, MD 20902-3019 and telephone number 301-681-1652. Raymond James is not affiliated with and does not endorse the opinions or services of Edward A. Zurndorfer or EZ Accounting and Financial Services. The information has been obtained from sources considered to be reliable, but we do not guarantee that the foregoing material is accurate or complete. While the employees of Serving Those Who Serve are familiar with the tax provisions of the issues presented herein, as Financial Advisors of RJFS, we are not qualified to render advice on tax or legal matters. You should discuss tax or legal matters with the appropriate professional.
Federal Employee Life Insurance