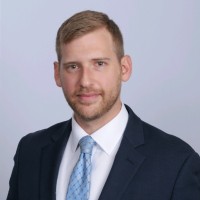 Hello, I am Matt Kramer, financial planner here at Serving Those Who Serve who specializes in helping Federal executives and retirees plan for their family's prosperity. I enjoy working with Feds because it is near and dear to my heart.
My 90-year-old grandmother retired from FDA in 1998 with 37 years of service, and my late grandfather was a Navy veteran who completed his tour in the Korean War in 1954. When he was still with us, my grandfather used to tell us the story about how when he got out of the Navy, he came down to D.C. from Atlantic City with only 2 ham sandwiches in his pocket. Shortly after he arrived he used his GI bill, to graduate from George Washington University in Washington, D.C. with an Engineering degree. Through my grandparent's hard work and the help of a dedicated financial planner, they not only retired comfortably but are now helping their third generation of heirs get through college and have a head start in life while leaving a nest egg for their 3 sons.
Is there anything more fulfilling than leaving such a legacy behind to your loved ones while accomplishing all of your own financial goals in life?
That story made an impression on me.  I decided to learn how to help families have the same success my grandparents did. This led me to graduate from the University of Maryland with an Economics degree and I have been in the financial industry ever since. But my learning did not stop, I have since added three designations that I feel are vital for financial planning for Federal Employees. I am a CERTIFIED FINANCIAL PLANNER ™, Chartered Federal Employee Benefits Consultant (ChFEBC℠), and Accredited Investment Fiduciary (AIF®).
What hurts my heart is when I've seen hard-working, career federal employees make errors in their financial and retirement planning due to misinformation or lack of reliable resources. I'm here to help you filter through the noise and find accurate information and answers so that you can make the best decision for your retirement and your family.  I spend every day arming Feds with the proper information and recommendations and want to leave everyone I meet in a better place.
Since so much of your financial future depends on your federal benefits, doesn't it make sense to have someone on your team that understands them, or at the very least have a conversation? I'd love to see if that someone can be me.
Want to learn how to maximize your federal benefits and how to coordinate them with your other resources for a great retirement?  Click the link to send me an email or, if you prefer, my calendar is below. Please pick a good time for us to chat. I look forward to meeting you soon.
All the best.