Will there be an E-Fund? Read about the latest politicization of the Thrift Savings Plan (TSP) and other possible issues with the retirement plan for feds.
A lesson learned at one point, or another is that bigger isn't always better, and the biggest certainly isn't always the best. This goes for defined contribution plans as well, and the TSP is most definitely the world's largest such plan, in terms of both money held (roughly $750 billion) and participants (a bit less than 7 million).
And there is a lot to like about the TSP. Its core funds track broad market indices and its relatively cheap when it comes to investment costs. But there are some areas for improvement that will probably not be addressed for a while, if at all, because the TSP just underwent a pretty serious renovation last year that brought a new recordkeeper, website, and investment options. Also, Congress, which has the legislative ability to make changes to the retirement savings plan, seems preoccupied with using the TSP for their political goals - on both the GOP and Democrats' aisles.
Make the Most Out of Your TSP! Attend our No-Cost Webinar with Ed Zurndorfer -
Led mostly by Senator Rubio of Florida, the Republican side of the US Congress has been focused on removing Chinese investments from the TSP's offerings. Even though a handful of Senators successfully blocked an index change to the I-fund in 2020, there are still some investment choices that include companies from China in the new mutual fund window, which the Florida Senator has been going after since last summer. His latest attempt was earlier this year when he reintroduced the TSP Fiduciary Act.
On the left side of the government's legislative branch, the focus on the TSP pertains to climate change and social issues such as ensuring more female and minority fund managers are represented in the TSP's investment choices. A recent rule from the Department of Labor (DOL) made it so plan managers are "allowed" to consider ESG factors when choosing investments, exercising shareholder rights, and proxy voting. Despite both chambers of Congress passing bills that would eliminate the rule, neither moved forward because the President stated he would veto any such law that made it to his desk.
Will There Be an "E" Fund?
Adam Schiff, a Democrat Representative from California, just reintroduced a bill of his own: the Federal Employees Sustainable Investment Act, which would add a sixth TSP fund to the existing five (G, C, S, I, and F). The new fund would be known as the "corporate responsibility" stock fund but since "C" is taken, would probably be called the "E" fund because it focuses on "ESG" stocks - which stands for Environmental Social Governance. Basically, for a company to be included in the fund, it would need to uphold minimum standards regarding corporate leadership, climate change impact, product safety, human rights, and community relations.
The act is not expected to even be voted on, but there are two important notes to consider. First, of the 10 largest ESG mutual funds (according to Bloomberg), 8 of them underperformed the TSP's C-fund in 2022, losing more than the C-fund's -14.8% loss. Second, like Chinese investments, ESG funds are available in the mutual fund window, so TSP participants who really want to invest in such companies via the TSP are able to do so – at least partially.
Instead of aiming for more partisan changes to the TSP, there is still room for improvement in the retirement plan that Congress could redirect their sights toward. Such items could include:
Adding more fund transfers. TSP account holders are currently allowed 2 per calendar month, although transfers into the G-fund are unlimited.
Making the mutual fund window more accessible. At the moment, there is a $10,000 minimum for the initial transfer, and you need a total TSP balance of at least $40,000 to get started. On top of that there are per-trade fees, annual fees, and each fund within the window comes with its own expenses.
Allowing distributions that aren't pro-rata. Although TSP participants can now select to withdraw from either their traditional or Roth TSP accounts, all withdrawals still come out of every TSP fund you're invested in, proportionate to the amount invested. You cannot pick and choose.
Keeping the US Treasury from using money in the G-fund to keep the government from defaulting on its debt obligations. Even though it gets paid back, it is not an ideal situation.
Allowing for more flexibility in the TSP. For example, Roth conversions and Qualified Charitable Distributions (QCDs) cannot be performed inside the plan. The money must be moved to an outside IRA first before a Roth conversion or QCD could take place. Those extra steps can be a hassle.
----
Until Next Time,

**Written by Benjamin Derge, Financial Planner, ChFEBC℠ The information has been obtained from sources considered reliable but we do not guarantee that the foregoing material is accurate or complete. Any opinions are those of Benjamin Derge and not necessarily those of RJFS or Raymond James. Links are being provided for information purposes only. Expressions of opinion are as of this date and are subject to change without notice. Raymond James is not affiliated with and does not endorse, authorize, or sponsor any of the listed websites or their respective sponsors.
***The Thrift Savings Plan (TSP) is a retirement savings and investment plan for Federal employees and members of the uniformed services, including the Ready Reserve. The TSP is a defined contribution plan, meaning that the retirement income you receive from your TSP account will depend on how much you (and your agency or service, if you're eligible to receive agency or service contributions) put into your account during your working years and the earnings accumulated over that time. The Federal Retirement Thrift Investment Board (FRTIB) administers the TSP.***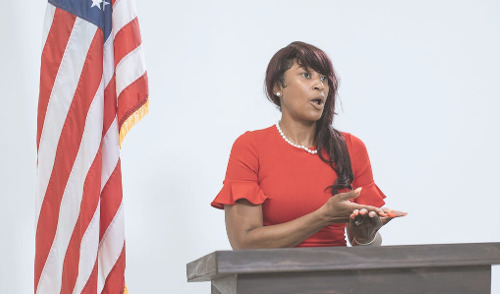 Politicization of the Thrift Savings Plan