Legislation brings pay boosts for federal wildland firefighters and VA employees – plus "millions" of veterans now covered by Veterans Administration (VA) healthcare system.
An infrastructure bill signed by the Biden Administration in November reformed the federal benefits offered to federal firefighters – giving them annual pay adjustments, a new disability benefit, hazard pay, and paid mental health leave. There were also pay increases that were made retroactively effective earlier this summer. More recently, the Promise to Address Comprehensive Toxics (PACT) Act was passed, bolstering the VA's infrastructure and making a large population of veterans eligible for care in VA hospitals.
Despite some political drama in Congress, the long-overdue PACT Act was approved with bipartisan support by both chambers of the legislative branch. The biggest impact the law will have is increasing the amount of Veterans who will be eligible for care from the VA. The timeframe in which veterans can apply for care was expanded from the previous timeframe of 5 to 10 years after being discharged. 23 respiratory illnesses related to exposure to toxic burn-pits are also covered now. Over a million veterans who were not able to get healthcare from the VA before will now have access – and that means the VA needs to be equipped to provide that care.
---
Learn about your federal benefits at our no-obligation webinars: FERS, TSP, and more -
The law authorizes 31 new VA facilities and lifts the pay caps for employees of the agency. At the moment, VA healthcare workers are eligible for premium pay that is 30% of their base pay. The new ceiling will be 50% of their salary base. Their total pay will be capped at the second level on the executive pay scale - $203,000 annually.
Firefighters Get Retroactive Raise
Lauded by the President of National Federation of Federal Employees, the President authorized a pay increase for a federal wildland firefighters in June. Made retroactively effective to October 1, 2021, the salary increase will be in place until at least the end of the fiscal year 2023, although the President said he aimed to make it permanent. Originally authorized in the November 2021 infrastructure bill, addressing the issue of wildfires, the federal firefighters will receive a 50% pay raise, limited to $20,000 per employee.
--
Until Next Time,

**Written by Benjamin Derge, Financial Planner, ChFEBC℠ The information has been obtained from sources considered reliable but we do not guarantee that the foregoing material is accurate or complete. Any opinions are those of Benjamin Derge and not necessarily those of RJFS or Raymond James. Links are being provided for information purposes only. Expressions of opinion are as of this date and are subject to change without notice. Raymond James is not affiliated with and does not endorse, authorize, or sponsor any of the listed websites or their respective sponsors.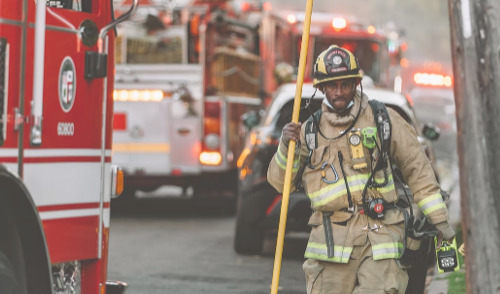 Federal Firefighters and Veterans