Demolition crew in Antarctica returned a lost wallet from 1968 to its now 91-year-old owner, who said the wallet "brought back memories."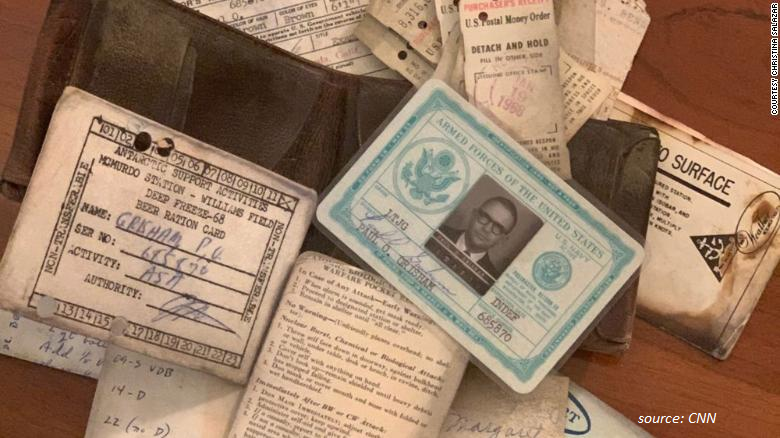 The Wallet returned from Antarctica^
When a movie trailer begins with "something being found in Antarctica," 99% of the time it is another Predator sequel or another The Thing remake. What was actually rediscovered at the bottom of the globe recently wasn't nearly as supernatural as these fictional films, but at least different.
John Grisham was working as a meteorologist for the Navy at McMurdo Station in Antarctica in 1968 when he misplaced his wallet. As a demolition team worked on tearing down the research facility 53 years later in 2021, the item was finally found, its owner located, and the 91-year-old recipient has said the wallet "brought back memories." The contents therein included his work ID, from when he was 38-years-old and stationed on the icy continent, his driver's license, a beer ration card with 21 punches remaining, a handwritten recipe for homemade Kahlua liqueur that was never used, and a notecard from the Cold War era that laid out instructions about what to do in the event of a nuclear, chemical, or biological attack. Like the Kahlua recipe, this was never used either.
McMurdo Station: "The Ice"
When talking about those days in the cold, the retired Navy employee refers to the place simply as "The Ice." The station used by the US Navy, where Grisham lived for 13 months with 180 other men, existed in an environment where the temperatures can dip to around -65 degrees Fahrenheit and the highs peak around 25 degrees F. The location is roughly 850 miles from the South Pole. Within the facility's walls, there was a once active 2-lane bowling alley and a small gym. Grisham played a lot of poker and chess in his downtime there, and claimed to be quite good at both despite one fellow Russian scientist who he could not beat in a chess match.
As a Naval meteorologist, John Grisham's mission at McMurdo station was to monitor the weather and provide reports to airplanes and ships. But in his seldom moments of leisure at "The Ice," he also had once-in-a-lifetime experiences like encountering wild Emperor penguins. He joined the service when he was 22-years-old in 1952, and was later stationed in San Diego, CA, where he eventually retired. Grisham served in the Vietnam war with the Navy aboard an Aircraft Carrier, and finished his career with the US Navy in 1977 after serving 25 years.
-
Until Next Time,

**Written by Benjamin Derge, Financial Planner. The information has been obtained from sources considered reliable but we do not guarantee that the foregoing material is accurate or complete. Any opinions are those of Benjamin Derge and not necessarily those of RJFS or Raymond James. Links are being provided for information purposes only. Expressions of opinion are as of this date and are subject to change without notice. Raymond James is not affiliated with and does not endorse, authorize, or sponsor any of the listed websites or their respective sponsors.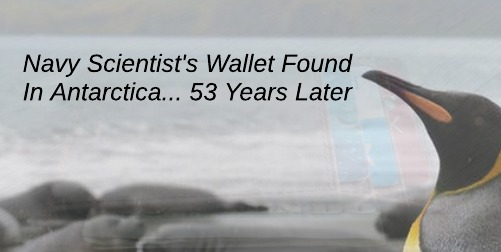 Wallet Returned from Antarctica