Recent news around the federal government. The latest on a potential government shutdown, 45,000 USPS employees hit by payroll mistake, and what to do if you've seen a UFO.
In this week's wrap-up of news from around the federal government, we look at recently proposed bill that would end the threat of government shutdowns. Then, learn about the payroll error that negatively impacted around 45,000 rural postal employees. And the Pentagon announced a new reporting system for former and current feds to disclose possible contact with "unidentified anomalous phenomena" (UAP).
If you work in the federal government, you are probably used to being acutely aware of activity in Congress every September because that's when discussions of a possible government shutdown emerge. If Congress fails to pass an appropriations bill, or some sort of stopgap budgetary measure, by the first of October, which is when the new fiscal year begins, then US federal agencies are closed until funding gets congressional approval. OMB determines what jobs are considered "essential" in this time, and all other feds are furloughed. It is an undoubtedly stressful experience for federal employees on all levels, and even the threat of a potential shutdown surely causes undue anxiety for many feds.
Are you a federal worker? Don't miss our retirement planning webinars!
The current shutdown drama reportedly originates from a far-right corner of the House of Representatives that stated it will only support a spending bill that withholds funding from the Department of Justice for the agency's multiple criminal indictments against former President Trump. In an attempt to stop the weaponization of government shutdowns as a bargaining chip, two Democrats from Virginia have crafted the 'End Shutdowns Act.' Senator Tim Kaine and Representative Don Beyer wrote the bills, one for each chamber of Congress. If passed, the legislation would automatically fund agencies should no appropriations bill get passed by October 1st. Kaine and Beyer noted that the role shutdowns are playing in the US federal government is "foolish" and "embarrassing."
Payroll Error at the US Postal Service
On September 1st, there were around 45,000 rural USPS workers who received either no paycheck or only a partial amount of what they were owed. The USPS called the error "egregious" and said it stemmed from a programming error for which there is a fix in place. The US Postal Service also promised that it won't occur again. Affected employees will receive an advance of 65% of their gross pay via a postal money order and won't have to pay it back until they've been fully repaid by their employer.
Reporting Tool for UFO Sightings
Keeping a promise from last year to collect and publish information on UAP encounters, the Pentagon announced an upcoming tool for current and former government personnel, including federal contractors and military members, to disclose UAP incidents that happened from 1945 to the present. The reports will funnel through the new All-domain Anomaly Resolution Office (AARO) before being released to the public. The reporting tool is not meant to display any potentially sensitive or classified information. The Pentagon also said that a separate portal is also in development for the general public to submit possible encounters with any UAP, which are colloquially known as 'unidentified flying objects" or UFOs.
----
Until Next Time,

**Written by Benjamin Derge, Financial Planner, ChFEBC℠ The information has been obtained from sources considered reliable but we do not guarantee that the foregoing material is accurate or complete. Any opinions are those of Benjamin Derge and not necessarily those of RJFS or Raymond James. Links are being provided for information purposes only. Expressions of opinion are as of this date and are subject to change without notice. Raymond James is not affiliated with and does not endorse, authorize, or sponsor any of the listed websites or their respective sponsors.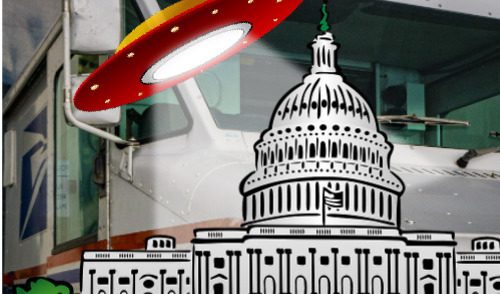 Bill to End Shutdowns and Other Federal News