For employees who use their privately owned vehicle for Government business, Reimbursement Rates for Gas Mileage Dropped Again in 2021
There are several people employed by the Federal Government who have to use a vehicle to perform their duties. As long as a specialty vehicle isn't required, many have the option to use their own car or van. Even mail carriers for the USPS, especially in rural areas, might be required to use their own automobile- or at least have a choice. When a Federal employee uses his or her car to perform their duties for the country's civil service, they can get reimbursed for gas and mileage.
In 2019, $0.58 was the per-mile rate. Last year, it dropped to $0.575 for every mile ($57.50 per 100.). Now for 2021, the General Services Administration (GSA) has decreased the mileage reimbursement rates again to $0.56 cents per mile. Feds who are eligible for these reimbursements can expect $1.50 less than last year for every 100 miles.
Here are the other 2020 reimbursement rates released by the GSA:
Motorcycle:       
$0.54/mile (down ½ a cent from 2020)
Airplane:             
$1.26/mile (down 1 cent from 2020)
Automobile (when Government Vehicle is Available):    
$0.16/mile (down 1 cent from 2020)
The Coronavirus has impacted fuel prices with less recreational travel and commuting occurring due to social distancing and stay-at-home orders. While the price at the pump might not currently be as low as it was in Spring 2020 at the onset of the pandemic, the cost of gas is still relatively less than it was 12 months ago.

**Written by Benjamin Derge, Financial Planner. The information has been obtained from sources considered reliable but we do not guarantee that the foregoing material is accurate or complete. Any opinions are those of Benjamin Derge and not necessarily those of RJFS or Raymond James. Links are being provided for information purposes only. Expressions of opinion are as of this date and are subject to change without notice. Raymond James is not affiliated with and does not endorse, authorize, or sponsor any of the listed websites or their respective sponsors.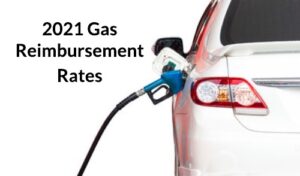 GSA Gas Mileage Reimbursement Rates