A roundup of recent events: DEA Administrator steps down, OPM's recent Emergency Leave Transfer Program, and the (mostly) vacant agency headquarters in DC.
Here is a quick overview of some recent news that may impact federal employees. First, we look at why DC is being called a 'ghost town' and what it means for remote work opportunities. Then, learn why the DEA's deputy administrator stepped down earlier this month. And lastly, there's still time to donate annual leave to feds affected by Typhoon Mawar, which hit at the start of summer.
Telework Leaves Federal Buildings Empty
The US Government is currently caught in a sticky situation when it comes to remote work policies for the federal workforce. There is a push by conservative lawmakers to greatly reduce or completely eliminate most telework options as seen in their proposed "SHOW-UP" bill. On the other hand, unions and hiring managers have convincing data that shows telework options have been a useful tool for recruiting new workers and retaining others. An April memo from OMB reflected this conflict between telework proponents and opponents by ending the emergency operating status that encouraged remote work options during the pandemic, but also giving agencies the liberty to maintain or adjust telework policies as they see fit. At most, the memo merely suggested agencies should increase "meaningful" in-person work.
Ready to Retire from the Federal Government? Learn about your benefits and financial planning at our no-cost webinars!
A couple months after the operating status has changed, 17 out of 24 agency headquarters in downtown Washington, DC remain practically empty the majority of the time. This is hurting the local economy, prompting the city's mayor to implore the federal government to either us the space or relinquish it to the city. With remote work policies still in limbo, however, it is hard to justify getting rid of the property if Congress is proposing to make in-person work mandatory. Would that happen, the office space would be needed. Without more concrete policies in place either protecting or restricting how much and when federal employees can work from home, making a decision about the agency headquarters' fate will be far from cut-and-dry.
Over the July 4th holiday, the 2nd-in-command that Drug Enforcement Administration (DEA) quietly resigned from his job as the principal deputy administrator. Louis Milone, who was replaced by George Papadopoulos, had rejoined the DEA after working as consultant for Purdue Pharma from 2015 to 2019. He claims that he left the agency due to personal reasons and his work with Purdue was in compliance with DEA rules. However, some speculate because Milone's work at the drug distributor was related to Purdue's role in suspicious shipments of the painkiller OxyContin, he was pressured to step down. He is one of over 36 senior aides to leave the DEA since Anne Milgram took her position as head of DEA in 2021.
Donate Leave to Feds in Need
Typhoon Mawar tore through US territories Guam and the Northern Mariana Islands at the end May. Around the middle of June, OPM set up an emergency leave transfer program for federal employees affected by the disaster. These programs allow federal employees from across the US to donate some of their annual leave to those in need. For more information on either donating leave or requesting emergency leave from the program, feds have been instructed to contact their agencies directly.
----
Until Next Time,

**Written by Benjamin Derge, Financial Planner, ChFEBC℠ The information has been obtained from sources considered reliable but we do not guarantee that the foregoing material is accurate or complete. Any opinions are those of Benjamin Derge and not necessarily those of RJFS or Raymond James. Links are being provided for information purposes only. Expressions of opinion are as of this date and are subject to change without notice. Raymond James is not affiliated with and does not endorse, authorize, or sponsor any of the listed websites or their respective sponsors.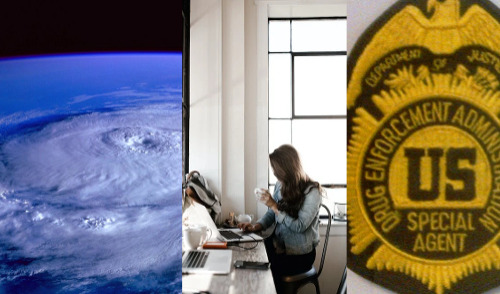 Remote Work Still Prevelant, DEA Resignation, and Emergency Leave Program