B117, a COVID-19 variant, is not being detected by all tests, FDA reports, but the impact is "not significant."
Severe Acute Respiratory Syndrome Coronavirus-2 or SARS-COV-2 was renamed to COVID-19 at the onset of the outbreak. This was done because World Health officials thought the "SARS" in the name would confuse some of the public. The first disease to be caused by a coronavirus was SARS-COV-1, which is thought to be eradicated from humans since 2004.
On January 8th, the FDA issued an alert to healthcare providers about the emergent B117 variant of the SARS-COV-2 that was first discovered in the United Kingdom. The genetically mutated variation of COVID-19 is producing false-negative results on some tests. Although the impact of these results has been deemed "not significant," the FDA wanted doctors and other healthcare workers to be cognizant of the possibility of a false-negative test result.
According to the press release, the tests that are most vulnerable to producing a false negative conclusion when the B117 variant is present are those that only detect "one region of the genome" for SARS-COV-2.  Three particular tests, one made by MetaBiotech, another by TaqPath, and a third by the company Linea, are most susceptible to missing the B117 variant and showing negative results. Other tests detect multiple regions of the genome and are more likely to spot both COVID-19 and its mutated viral variants
The FDA is currently working with companies that develop these tests, using data analysis to inspect the effectiveness of the currently authorized molecular tests that aim to detect the SARS-COV-2 virus. There have been over 21,000,000 cases of COVID-19 in the US, resulting in over 365,000 deaths. The day before this press release from the FDA, there were over 4,000 deaths from this pandemic- the highest daily total so far.
Until Next Time,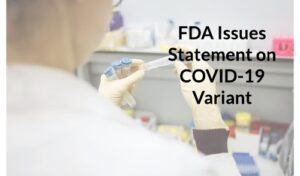 **Written by Benjamin Derge, Financial Planner. The information has been obtained from sources considered reliable but we do not guarantee that the foregoing material is accurate or complete. Any opinions are those of Benjamin Derge and not necessarily those of RJFS or Raymond James. Links are being provided for information purposes only. Expressions of opinion are as of this date and are subject to change without notice. Raymond James is not affiliated with and does not endorse, authorize, or sponsor any of the listed websites or their respective sponsors.