A recent letter penned by Oklahoman Senator calls OPM backlog "unacceptable" even as pending retirement claims dwindle to the lowest point in over 5 years.
Senator Lankford from Oklahoma wrote a letter to OPM director Ahuja earlier this month. In the public correspondence, Lankford called the OPM backlog of retirement claims "unacceptable." With a 2019 GAO report as a reference, the Senator's letter notes 2/3 of retirement applications take more than 60 days to process, averaging around 142 days. And even though new retirees get interim payments upon retirement, these range from 20% - 40% less than what their full FERS or CSRS income will be. The 3 to 5 months it takes for a retirement claim to process can be a real struggle for feds who are relying on that missing chunk of their monthly pension.
In the Congressman's letter, he made several information requests from Ahuja, including a progress update on the agency's IT modernization plan for retirement services.
Get Ready for Retirement with our No-Cost webinars on your benefits, financial planning, and more!
While the Senator is not wrong about the frustratingly slow pace it has taken for a FERS or CSRS retirement claim to be processed at Iron Mountain, the outrage evident in his letter feels a bit late. At the end of June last year, the inventory of pending retirement applications was just over 30,000. At the end of last month, the backlog of claims in-process was 14,073 less than at the same point in 2022 with 16,370, which is also the lowest that OPM's inventory has been since the final months of 2017 when it was 14,515. Despite the 15% spike in applications at the start of this year, OPM retirement services has slashed the backlog by 34% since. And the pile of pending claims has been steadily shrinking after hitting an 8-year high of 36,349 in March of 2022.
Details are scare when it comes to OPM's modernization of retirement services for the federal workforce, but CIO Guy Cavallo has shared that his approach will be gradual and done piece-by-piece, slowly moving toward a more centralized cloud-based system that won't require paper forms anymore. But, speaking of those paper-based retirement applications, OPM did at least release a concise retirement guide earlier this year. The guide is designed to ensure retirement applications are complete and accurate as to speed up overall processing time.
----
Until Next Time,

**Written by Benjamin Derge, Financial Planner, ChFEBC℠ The information has been obtained from sources considered reliable but we do not guarantee that the foregoing material is accurate or complete. Any opinions are those of Benjamin Derge and not necessarily those of RJFS or Raymond James. Links are being provided for information purposes only. Expressions of opinion are as of this date and are subject to change without notice. Raymond James is not affiliated with and does not endorse, authorize, or sponsor any of the listed websites or their respective sponsors.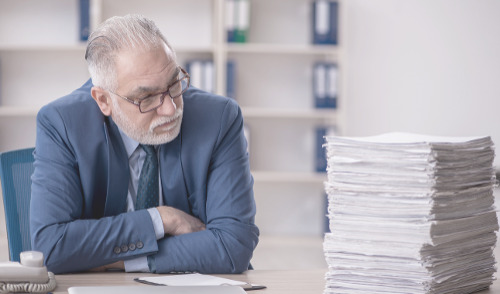 OPM Backlog of Retirement Claims