NAPA and NTEU Released a joint statement to persuade the incoming Biden presidency to bolster relationship between Civil Servants and the Executive Branch.
538 electoral college votes were officially cast last week, confirming Joe Biden will be the 46th President of the United States on January 20, 2021. 306 votes for Biden beat out 232 votes for the current President, Trump. In a unanimous 9-0 decision, the Supreme Court rejected an effort by the Trump reelection campaign to put aside 62 electoral votes from four states: Georgia, Arizona, Pennsylvania, and Michigan.
While the 2021 Federal Pay Raise is still up in the air, the current President has indicated there will be a civilian employee pay freeze whereas military personnel can expect a 3% 2021 raise. That being said, it might be possible for the incoming Commander-in-Chief to retroactively instill a 2021 federal salary increase. Efforts that were once attempted by the outgoing administration are now permanently off the table, though. Making the High-3 computation the High-5, drastically upping the amount new employees contribute to their pension, and the rollout of 'Schedule F' are all initiatives that would have been detrimental to the Federal workforce. It has been assumed that the Biden presidency will not support such things as before being elected, he promised to support Feds.
 The National Academy of Public Administration (NAPA) and the National Treasury Employees Union (NTEU) released a joint statement meant to persuade the new president to bolster the Federal workforce's relationship with the White House: "Modernizing and Reinvigorating the Public Workforce." Some of the points made in the correspondence include:
- expanding the scope of collective bargaining rights in the Federal landscape
- streamline hiring authorities to ease the "bottleneck" caused by the current security clearance process
-Revamp the General Schedule (GS) Classification System that has been in place since 1949
-Boost IRS Staff by 5% (4,000 new positions)  
Until Next Time,


**Written by Benjamin Derge, Financial Planner. The information has been obtained from sources considered reliable but we do not guarantee that the foregoing material is accurate or complete. Any opinions are those of Benjamin Derge and not necessarily those of RJFS or Raymond James. Links are being provided for information purposes only. Expressions of opinion are as of this date and are subject to change without notice. Raymond James is not affiliated with and does not endorse, authorize, or sponsor any of the listed websites or their respective sponsors.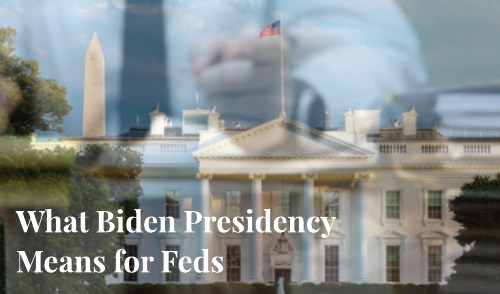 Biden Presidency and Federal Benefits