Recent news from around the federal landscape: Senator accuses feds of fraud, firefighters threaten to quit over 'pay cliff,' and CISA approves recommendations for National Cyber Alert System.
In this week's roundup of news from around the government, we're going to take a look at a Senator's recent fraud accusation involving feds and telework. Then, federal wildland firefighters are disgruntled over looming pay cut. And the last quick story we'll go over is about the former White House cyber director's recommendations for a new cybersecurity warning system.
Senator's Attack on Telework
One of Iowa's Republican Senators, Joni Ernst, recently sent 24 letters to federal inspectors requesting they investigate "major federal departments" over remote work among government employees. In Ernst's statement, she claimed feds who receive locality-based pay but work remotely from an area with a lower cost-of-living are committing fraud. Interestingly, her letter to investigators cites a 2014 incident that was detailed in a 2016 report, which was praising the US Patent and Trademark Office's 2015 reformations addressing how teleworkers are monitored. The incident involved a federal employee who was caught play golf, shooting pool, and drinking while claiming to be on the clock, fraudulently earning over $25,000 for unworked hours.
Are you a federal worker? Don't miss our retirement planning webinars!
Not only is the Senator's argument supported by an outdated example, but it is also at fault for two other reasons. One, the effort is part of Republican attacks on remote work at federal agencies that includes the SHOW UP bill. Their endeavors to reduce telework now feel extraneous as the White House has already indicated agencies should "aggressively" increase on-site workdays for their staff. Two, the localities in question usually encompass homes within a radius of a few hundred miles and most feds still live within the area where the same locality pay as their workplace is allotted – meaning it's basically a nonissue. Picking on the federal workforce seems to score political points in some circles, however, and that is most likely what the Senator's accusations were hoping to accomplish.
Wildland Firefighters Threaten to Quit
While the majority of federal employees are bracing for a possible shutdown on October 1st, there is another group of feds dreading the date for additional reasons. If funding isn't approved by Congress by September 30th, federal wildland firefighters at the US Forest Service will see a steep drop in their pay. At the beginning of Summer in 2022, as fires were ravaging California, the President signed an executive order to give these federal firefighters a significant pay boost that equaled $20,000/year or 50% of their base pay, whichever amount was less. Funding for this salary raise runs out unless Congress acts by the end of the month. Referred to as a 'pay cliff,' if it isn't fixed, a third of the US Forest Service's affected firefighters say they'll seek employment elsewhere. 2 proposed bills that would fix the problem by making the pay raise permanent or instilling similar pay rates were introduced by Democrats on Capitol Hill. While supported by the GOP House speaker McCarthy, Republican Senator Rand Paul is against the introduced legislation and may prevent it from moving forward in the Senate.
CISA Update on Alert System
In a September 13th meeting, the Cybersecurity and Infrastructure Agency (CISA) approved recommendations, one of which will lead to the creation of a new National Cyber Alert System. The 24/7 service will be designed for federal employees and contractors to share "actionable" information about active cyber threats. Chris Inglis, the former White House cyber director, was in charge of the subcommittee that produced the recommendations in a 64-page document. With cybersecurity being one of the government's biggest threats, CISA is looking to bolster the nation's digital defense and believes the implementation of Inglis' suggestions are a very strong step in the right direction.
----
Until Next Time,

**Written by Benjamin Derge, Financial Planner, ChFEBC℠ The information has been obtained from sources considered reliable but we do not guarantee that the foregoing material is accurate or complete. Any opinions are those of Benjamin Derge and not necessarily those of RJFS or Raymond James. Links are being provided for information purposes only. Expressions of opinion are as of this date and are subject to change without notice. Raymond James is not affiliated with and does not endorse, authorize, or sponsor any of the listed websites or their respective sponsors.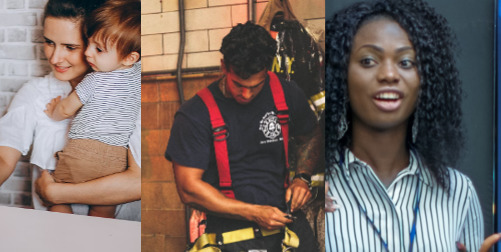 Federal Firefighters Face Pay Cliff and Other Federal News